Cosmetic Dentist – York, PA
Enjoy Having a Smile You're Proud Of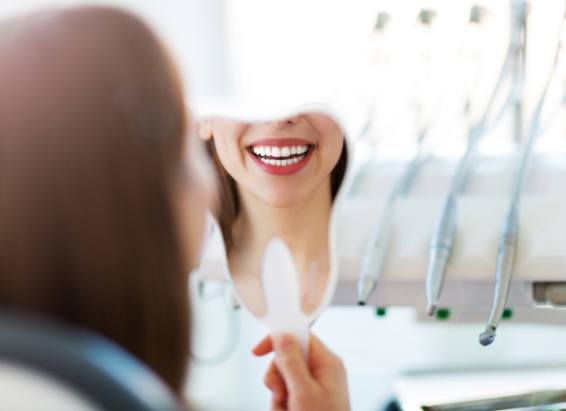 If you're like most people, you probably weren't born with a perfect set of teeth. Dental flaws might be keeping you from feeling proud of your pearly whites. Here at Aesthetic Dental Arts, we would love to help you achieve a more confident, attractive smile with cosmetic dentistry in York. With so many services to choose from, we're able to fix practically any cosmetic dental flaw. Call us to find out which treatment is right for you!
Why Choose Aesthetic Dental Arts for Cosmetic Dentistry?
Convenient Take-Home & In-Office Teeth Whitening Options
Gummy Smile Correction Offered
In-House Dental Plan Makes It Easy to Save
Veneers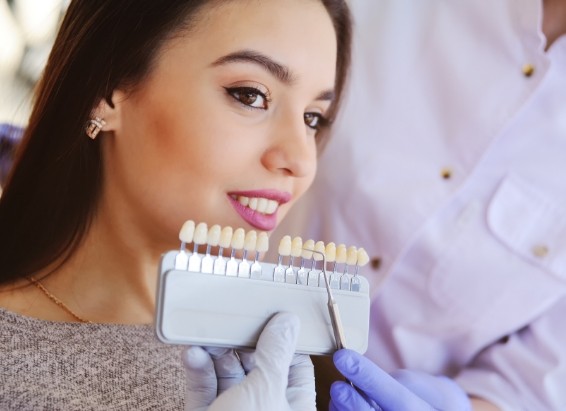 You can think of dental veneers as your one-stop shop for addressing multiple aesthetic dental imperfections at the same time. These thin, customizable shells are made from dental porcelain, which looks impeccably like natural tooth enamel. After placing the veneers over the fronts of your teeth, your smile will instantly appear as if it was never flawed to begin with!
Lumineers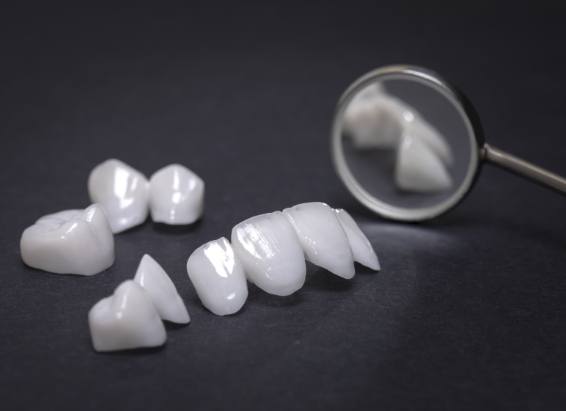 While veneers are a great way to transform your smile, they do require a thin layer of tooth enamel to be removed in order to make room. Because enamel cannot grow back, this makes veneers an irreversible procedure. If you'd like a less permanent alternative, we offer Lumineers. They cover up all of the same cosmetic flaws as traditional veneers, but they're much thinner, so we won't need to remove any enamel before placing them.
Metal-Free Dental Crowns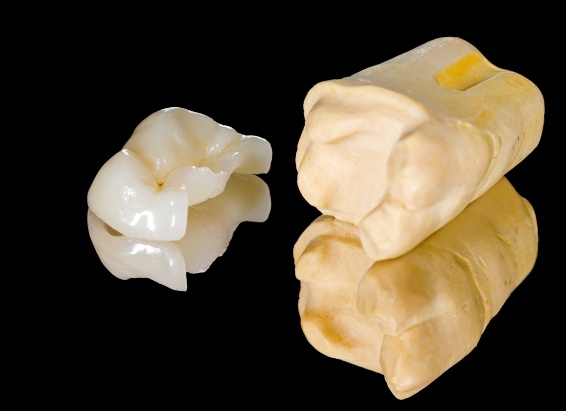 In the past, dental crowns were made from gold, silver, and other metals that immediately shone a spotlight on your dental work. Today, we're able to provide dental crowns that blend right in with your natural smile. Instead of being made from noticeable metals, they're crafted from lifelike dental ceramic, which can be shaded to match the exact color of your teeth.
Cosmetic Dental Bonding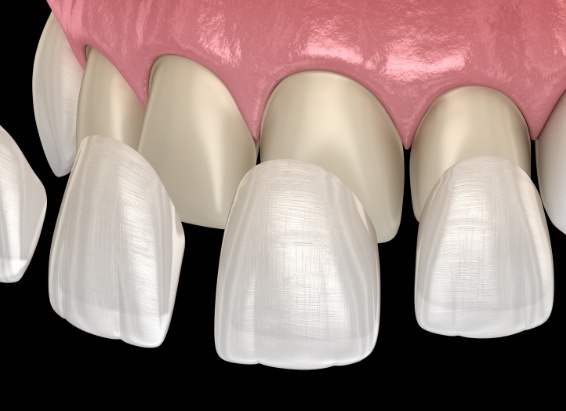 While veneers and crowns take a couple of appointments to place, cosmetic dental bonding can fix many of the same aesthetic issues in a single visit. This quick-fix involves using composite resin to conceal stains, fill in chips and cracks, build up misshapen teeth, or even close tiny gaps between teeth. Bonding rarely takes more than 30-60 minutes, and it's one of the most affordable ways to improve your smile!
Teeth Whitening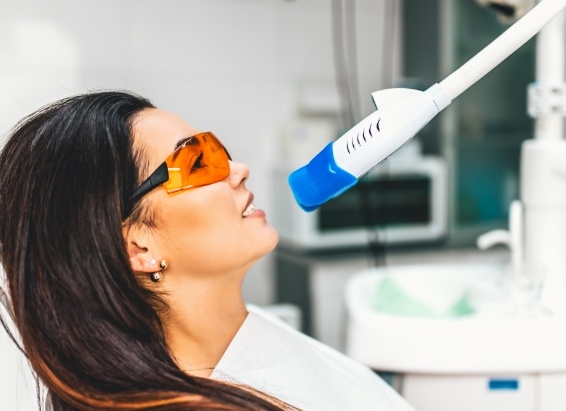 Unlike the products you'll find in stores, professional teeth whitening is an effective way to remove stains and discoloration caused by pigmented foods, drinks, tobacco, and even aging. At Aesthetic Dental Arts, we offer Pola and KOR whitening solutions that can be used in a single in-office visit or more gradually in the comfort of your own home. Either way, you'll have a dramatically brighter smile that will leave you feeling more confident than ever!
Gum Recontouring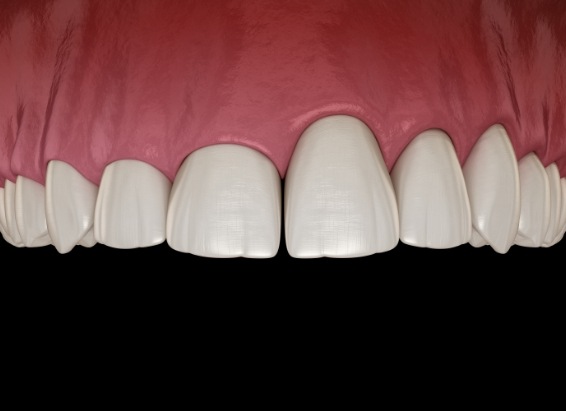 Sometimes, your teeth aren't to blame when something looks off about your smile; it might be your gums! Overgrown gum tissue can make your teeth look short and stubby, but gum recontouring, also known as "gummy smile correction," is a great way to fix this issue. Using an advanced diode laser, Dr. Singh can remove excess gum tissue and even out your gum line, allowing you to show off your pearly whites to the fullest.
Smile Makeovers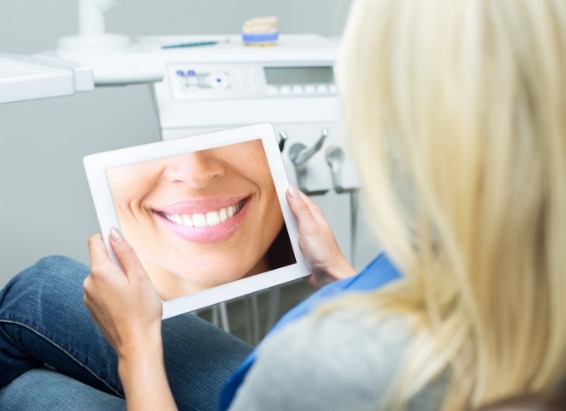 Are your teeth so flawed that having an attractive grin seems completely out of reach? With a smile makeover, that's simply not the case! No matter how your teeth look at the moment, Dr. Singh can devise a customized treatment plan, known as a smile makeover, to bring out their full beauty. He'll ask you about the smile upgrades you have in mind, and with his expert knowledge, he'll make sure they become a reality!
Cosmetic Dentistry FAQs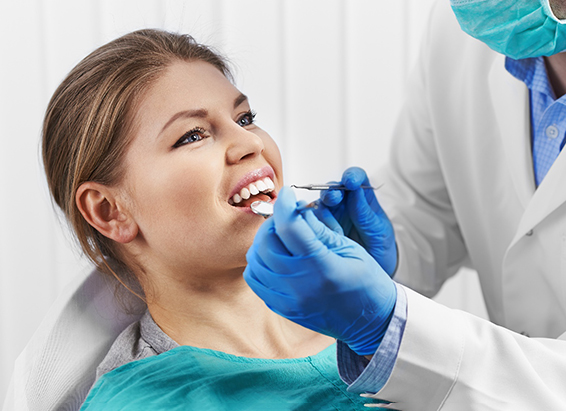 If you're considering cosmetic dentistry of any kind, it's important that you have all the necessary details before starting treatment. Meeting with your cosmetic dentist in York is the first step to determining how you want your new smile to look and which type of service you prefer to help you attain these results. Because a plethora of information is what you can expect to receive during a consultation, you'll likely have many questions. Feel free to review the most frequently asked questions below and don't hesitate to contact us for further information.
How Do I Know If I Need Cosmetic Dentistry?
Only you can decide if want cosmetic dentistry, but your dentist can help you determine if it is necessary. Typically, when any kind of imperfection exists, it is enough to inquire about available services. Whether minor or major, a cosmetic flaw can keep you from feeling good about your appearance, which is why a scheduled consultation with a trusted expert is a great way to learn if your oral and overall health are in good enough shape to move forward with cosmetic dentistry. If so, you'll receive a comprehensive treatment plan that outlines the proposed method of care and a timeline for results.
How Can Cosmetic Dentistry Change Your Life?
Yes, cosmetic dentistry is most beneficial in helping to change your appearance, but what you may not realize is that it can also have a positive impact on your emotional and mental health as well. After spending years being dissatisfied with your smile, you might have low self-esteem and forgo social events that allow you to meet new people.
Once you undergo cosmetic treatment, though, you'll notice an instant boost in your confidence, helping you to feel comfortable talking to others and showing off your smile. Instead of feeling depressed and isolated, you can embrace a happier you who is ready to pursue greater opportunities.
Is Cosmetic Dentistry Expensive?
It depends on the type of cosmetic dental treatment you receive. In most cases, cosmetic dentistry can be a costlier form of care; however, flexible financing has made it easier for regular patients to enhance their smiles without emptying their wallets. While it may not be covered by dental insurance, many dentists partner with third-party companies to make financing treatment easy and affordable.
What is the Difference Between a Dentist and a Cosmetic Dentist?
Many individuals assume that a cosmetic dentist must undergo years of schooling to provide aesthetic-based dental care, but this is not true. The reality is that a general and cosmetic dentist both must achieve licensure after graduating with a DMD or DDS from an accredited institution.
Once finished with their degree, they may opt to pursue a specialization if they prefer. While cosmetic dentistry is not viewed by the American Dental Association (ADA) as a specialized field, some various institutions and programs make it easy for dentists to pursue additional training and experience in the field. As a result, they are capable of placing veneers, administering teeth whitening, and even reshaping gumlines for healthier, more beautiful smiles.